The Dean of the Faculty on Training Foreign Students and Post-graduates 
Ph.D. of Biological Sciences
Belousova Elena Sergeevna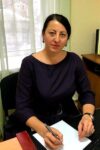 Address: 119/80, Suvorova Str., room 205, Rostov-on-Don, 344022, Russia
Tel.: +7(863) 250-41-01
e-mail: belousova_es@rostgmu.ru
Reception hours: Monday-Friday, 15.00-18.00
Languages of instruction: Russian and English
«General Medicine» (English Medium) — 6 years
«General Medicine» (in Russian language) — 6 years
«Pediatrics» (in Russian language) — 6 years
«Pharmacy» (in Russian language) — 5 years
«Dentistry» (in Russian language) — 5 years
————————————————————————————————-
Diploma of Physician of the Rostov State Medical University which has been training specialists for foreign countries since 1961 is highly appreciated abroad. In 1964 the Dean's office of Faculty on Training Foreign Students and Postgraduates was organized. Foreign students are trained at the faculties of General Medicine, Pediatrics, Pharmacy and Dentistry. Annually the University produces about 100 foreign specialists from about 100 countries of Asia, Africa, and Latin America. In recent years the number of students from CIS countries has significantly increased. Students from different countries live as one big friendly family successfully obtaining one of the most noble and humane professions — medical one. The best foreign students are the scholarship holders of The Potanin's Charity Fund.
Training foreign citizens on the postgraduate stage at the University has been carrying out since 1965. Elena S. Yasanis has been supervising foreign interns and postgraduate students for 15 years. Approximately 100 specialists are trained in the internship, residency and postgraduate (Ph.D.) course at the Rostov State Medical University. Annually 4-5 foreign postgraduates successfully defend their thesis with awarding the scientific title Ph.D. Young scientists-foreigners represent our University at international congresses and symposia on actual problems of medicine in other countries.
Many graduates of the Rostov State Medical University after completing the residency and postgraduate course became prominent statesmen, heads of clinics, hospitals, departments of Ministries of Health in their Motherland. Among them:
Mahamat Annour Wadak — the Secretary-General of the Ministry of Public Health (Chad)
Chukudo Godwin Ivegbu — Professor, Head of Traumatology Department of the University n.a. Ahmadi Belo (Nigeria, Zaria)
Mohammed Drees — Doctor of Science, member of American Surgeon Society, Chief Physician of the hospital (Lebanon, Beirut)
Zuhair Abu Faris — Doctor of Science, Head of the Obstetrics & Gynecology clinic (Jordan, Amman)
Tampuori John Kofi Banaamvin — Head of the Central hospital of Volta (Ghana)
Samad Haisam —Chief Physician of Central hospital, successful political leader (Lebanon)
Atawurah Henry — Head of Surgery Department in Central hospital in westward of Ghana
Abdulkadir Yakubu — Head of Surgery Department in Central hospital in Kazaur (Nigeria)
Elanga Bongо Charley — Head of Endocrinology Department in Pointe-Noire (Congo)
Afoko Aksibadek Aleks — Chief Urologist of Central district (Ghana)
Mohammad Suleiman —Chief Dermatologist in Central hospital (Nigeria)
Foreign students who graduated from the Rostov State Medical University obtaining Diploma with Honor:
2000 year
Ranim М.G.Al-Shava (Palestine)
Raghda Kamel Said
2003 year
2005 year
Olutade Toyosi Timi (Nigeria)
Osemota Simeon Usido (Nigeria)
2006 year
Magakyan Nikolai Ivanovich (Abkhasia)
Antoniu Marina (Cyprus)
Buaitoa Dharmasignh (Mauritius)
Odioemene Nnaemezie Emmanuel (Nigeria)
Ojo Amole Oloyede (Nigeria)
2007 year
Astery Tayar (Albania)
Kambo Blerina (Albania)
Nemaire Kelvin (Zimbabwe)
Kebaya Lilian Maurin Niatichi (Kenya)
Papamarku Paraskevas (Cyprus)
Samaravira Vidana Arachchilage G. Kaushalya (Sri Lanka)
2008 year
Kim Anastasia Arkadievna (Kyrgyzstan)
Perera Gunarathne Dineshika С. (Sri Lanka)
2010 year
Banda Faindany (Zambia)
Sawsan Mohamad Chehade El Karsifi (Lebanon)
2011 year
Ivanba Nara Dameevna (Abkhasia)
Vo Minh Phuc (Vietnam)
Nguyen Thi Phuong Thac (Vietnam)
Gypta Shiv Ji (India)
2012 year
Matin Mohammad Abdul (Bangladesh)
Padingani Mwabilayi (DRK)
Vuchevski Boban (Macedonia)
Bayaraa Altanzul (Mongolia)
2013 year
2014 year
Nguyen Bik Van (Vietnam)
Nunkoo Bridjenderr Ray (Mauritius)
Baidjnat Parima (Mauritius)
Boychevski Jovan (Macedonia)
Malkhasyan Artem Fedorovich (the USA)
2015 year
 Mon Thi Uyen Hong (Vietnam)
Akinpelu Akinsola David (Nigeria)
Anigbogu Ngozi Jennifer (Nigeria)
Muhammad Adnan Hamid (Nigeria)
Nwankwo Chinvendu Oluchukvu (Nigeria)
2016 year
2017 year
Maniratanga Jean Thierry (Burundi)
Ha Viet Ngoc (Vietnam)
Sikanyika Alinani (Zambia)
Omonigho Oghene-Mudiakevwe Eunice (Nigeria)
Uzoma Chukwuemeka Chuma (Nigeria)
Beshtawi Raed W.K. (Palestine)
2018 year
Ndihokubwayo Benjamin (Burundi)
2019 year
Nguen Thi Khanh Vy (Vietnam)
Gapon Alina Vasilievna (Ukraine)
Pisarev Yaroslav Igorevich (Ukraine)
2020 year
Al-Sahli Osamah Abdulwahab Mohammed (Yemen)
Banna Murad (Israel)
Sapkota Ramu (Nepal)
Pasechnik Aleksandr Andreyevich (Ukraine)
Selimshaeva Dinara Sitvelievna (Ukraine)
Burtsev Spartak Sergeevich (Ukraine)
2021 year
Al Dva Baraa (Yemen)
Grushevskaya Marina (Moldova)
Silval Saroj (Nepal)
Pavlova Valeria Romanovna (Ukraine)
Ponomareva Arina Alexandrovna (Ukraine)
Officials of the Dean's office pay great attention to the educational work with foreign students and postgraduates, organize debates on actual problems of modern time, inform them about history, national holidays, traditions and culture of Russia.